Article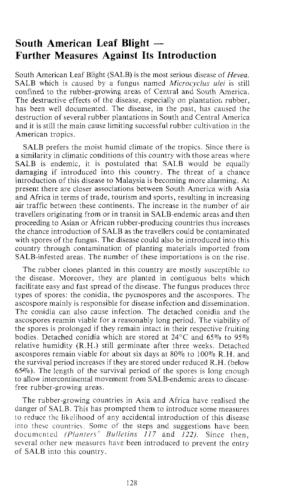 South American Leaf Blight - Further measures against its introduction.
Ismail Hashim; Abdul Aziz S.A. Kadir
RRIM Planters' Bull. 1983 Dec. No.177 p. 128-132
ABSTRACT :
South American Leaf Blight (SALB) is the most serious disease of Hevea. SALB is still confined to the rubber-growing areas of Central and South America. Realising the danger of SALB, rubber-growing countries in Asia and Africa were prompted to introduce some measures to reduce the likelihood of any accidental introduction this disease into these countries. Described in this article, are the preventive measures adopted to prevent the entry of SALB; developments in Malaysia in relation to SALB, which include the emergency eradication of the disease in case of outbreak, cooperation of travellers from SALB-endemic areas to break their journey in a country where there is no rubber for at least overnight before they arrive in this country; and also training, and research on the detection and recognition of SALB by the local public and the agricultural research workers.